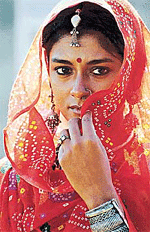 Producer: Jagmohan Mundhra
Director: Jagmohan Mundhra
Starring: Nandita Das, Rahul Khanna, Gulshan Grover, Govind Namdeo, Raghuvir Yadav, Lillette Dubay
Bawandar started out with an aspiration by Director Jagmohan Mundhra to make a film based on his homeland Rajasthan. Unfortunately, on his journey for a subject matter, he encountered a sad story from a reporter of a newspaper titled The Guardian. He read from this newspaper the tale of Bhanwari Devi, a worker in a group known as Saathin, who was raped by men of an upper caste.
Nandita Das plays the role of lead role as Sanwari Devi – a lower caste woman. Sanwari is the wife of rickshaw-puller Sohan (Raghuvir Yadav) and a mother to two kids. Sanwari is approached by 'Saathin' worker Shobha Devi (Deepti Naval) to take up cudgels against the prevalent system of child marriage. She does so with dynamism and in the course, invites the fury of the villagers.
The upper caste men of the village, the Gurjars and the village priest and do not like this 'reformist' attitude and in order to teach her a lesson gang rape her in front of her husband who is also beaten up.
Amy (Laila Rouass) arrives in Rajasthan with her friend-cum-interpreter Ravi (Rahul Khannal) to write about Sanwari Devi after having read about her case abroad. They rake up the case five years after the incident. Sanwari Devi (Nandita Das) belongs to potter's family of Dabri village. She is married to Sohan (Raghuveer Yadav), a rickshaw-puller in Jaipur, has two children and is a gutsy housewife.
A courageous Sanwari goes to the police station to file a FIR. The police officer (Ravi Jhanakal), a corrupt man, wants her to produce a medical certificate. Almost after two days with Shobha's help Sanwari manages a court order with the help of which she gets the medical certificate in Jaipur. About two days pass in this process. When the case is filed, the upper caste men panic and get the help of the MLA Dhanraj Meena (Govind Namdeo). The case is transferred to the CBI.
In the meantime, a women's NGO, in Delhi on hearing the incident, tries to help Sanwari. A Gurjar lawyer (Gulshan Grover) defends Sanwari but the influence and reach of the upper caste men is high.
The trial realistically takes some time and goes through a number of changes in the process. She is still waiting for justice- and that doesn´t change in the end of the film. Whatever so-called "justice" she achieves during the case, which is the only portion consisting of positive elements in this film, will clearly not benefit her in her endeavors to come.
So is the plight of the real Bhanwari Devi. As expected the judgment went against her. All the accused were let free. It didn't end there. The judge pronounced some of the most shocking remarks ever heard in a judicial statement.
Bhanwari Devi was a Dalit and so, her rapists — upper caste men — could not have possibly raped her.
Talking on the fact that she was raped before her husband the judge said
It isn't possible in Indian culture that a man who has taken a vow to protect his wife, in front of the holy fire, just stands and watches his wife being raped, when only two men almost twice his age are holding him.' The judgment also states that it is highly improbable that an uncle and his nephews would commit rape together. The presence of one Brahmin amongst those accused leads the judge to observe that gangs in rural areas is not usually multi-caste and so the accused could not have acted together.
Rape not about sex, it is about subjugation. It is a power statement. Especially so, when aligned to it is poverty and caste discrimination, it cannot but create a Bawandar.